General Information
Guide to Life
Release time:October 13, 2015 /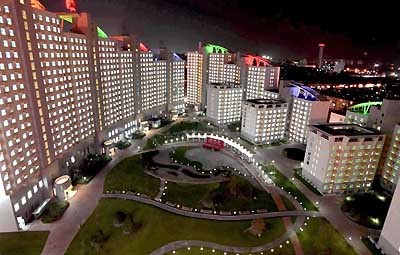 International Student Dormitory:
DaYunCun No.10 Building apartment offers on-campus housing for foreign students. The apartment equipped with double rooms. The service center located in Room 304A, Building No.10. Its working time is 8:30—17:30 (Friday to Monday), 8:00---20:00 (Tuesday---Thursday). 24 hours service hotline:010-82355853. Or you can send E-mails to Manager:dingwc@zhongwan.cn.
Download the handbook for more specific information:
http://is.buaa.edu.cn/index.php/Article/detail/id/854.html
Coffee Bar:
Zhizhen Coffee: to the east of the Office Building.
Duyun Coffee: on the first floor of the Library.
Wing's Coffee: on the first floor of Training Center.
Supermarket:
Yougou Supermarket: The ground floor of Heyi Building. You can use one-card buy things you need. Opening Time: 8:00---21:00.
Chaoshifa Supermarket: West side of Heyi Building. You can use the RMB to buy things you need in Chaoshifa Supermarket. Opening Time: 8:00---21:00.
Bank:
ICBC(Industrial and Commercial Bank of China): West side, the first floor of Heyi Building.
Bank of China: South of New Main Building, the first floor in Vision Building.
CCB(China Construction Bank): Opposite to the East Gate of BEIHANG.
Agricultural Bank of China: The first floor in Jinqiu International Building, opposite to the south gate (Outside).
China Post: The first floor of Heyi Building.
China Merchants Bank: The first floor of Integrated Circuit Building at Dayuncun.
Bank of Beijing: Northeast side, the first floor of Shining Building in XueYuan Road.
ATM:
ICBC ATM: Beside ICBC in Heyi Building.
CMBC ATM: China Merchants Bank at Dayuncun.
ATM in New Main Building: ICBC, CCB, CMBC and CEB.
University Hospital:
Regular Consulting Hours: From Monday to Friday, 8:00a.m. to 11:45a.m. and 14:00p.m. to 17:45p.m. (except for every Wednesday afternoon for business learning time).
The university hospital located in the southwest of Beihang, providing both clinic treatment and hospitalization services. Student Card is needed for out-patient registration. If you need to seek more professional treatment, you'd better go to large hospitals outside the campus. The nearest one is Peking University Third Hospital.
Contact number for university hospital is 82314400. For emergency help, please call 120 or 999 for Ambulance.
Distribution of Teaching Buildings:
Teaching Zone: Main Building, Main South Building, Main North Building, Main Middle Building, Building 1, 2, 3 & 4, International School (East Wing of Library).
New Main Building: A—G Buildings
Distribution of canteens:
Distribution

Canteen

Opening Time

South

No.2, No.3, No.6Canteen

6:30-8:30; 10:30-13:30; 17:15-19:30

Heyi Building

(First three floor)

6:30-8:30; 10:30-13:00; 17:10-19:00

Muslim's Canteen

(South of fourth floor)

6:30-8:30; 10:30-13:30; 17:15-19:15
Visit http://is.buaa.edu.cn/index.php/Life/info/id/65.html to see more