News
Signing Ceremony of Contract on APSCO Student Small Satellite Project Between Beihang and APSCO
Release time:February 22, 2017 / Li Mingzhu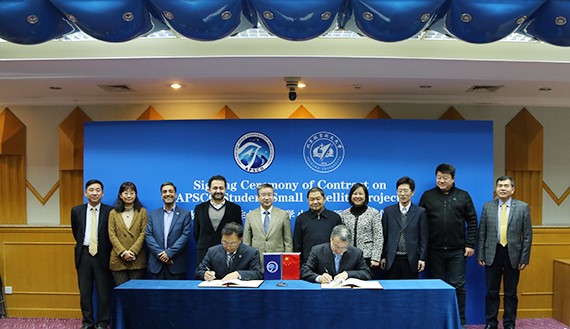 Beihang University and Asia-Pacific Space Cooperation Organization (APSCO) signed the Contract on APSCO Student Small Satellite Project on the afternoon of January 17, represented by Huang Haijun, Beihang's vice president, and Li Xinjun, the general secretary of APSCO respectively. This project was a milestone—it has been the largest international cooperation project of APSCO since it was founded.
As the leading member of the project, Beihang University organized a research and development team involving multiple schools and departments. It will accomplish the project with seven other members of APSCO, and much coordination as well as cooperation is required in the process. It is expected that this project will serve as a successful example of combining education and technology transformation, as well as providing a platform with sustainable development for APSCO members to communicate and to cooperate with each other and cultivate talents in the field of space technology.
APSCO Student Small Satellite Project was initiated by APSCO. Universities from its member states (China, Pakistan, Iran, Thailand, Peru, Turkey, Bangladesh and Mongolia) will develop three small satellites—one micro-satellite and two nano-satellites—to accomplish the tasks of on-orbit verification of technologies, interstellar communication, space scientific exploration and application of space remote sensing. The flight model will be launched in 2019.
Reported by Guo Yuanyuan and Cui Yishuo