News
Beihang and Lund Launch Joint Class Program
Release time:May 3, 2017 / Mingzhu Li
The Beihang-Lund Joint Class Program Cooperative Agreement was signed by Huang Haijun, the vice president of Beihang University, and Prof. Viktor Öwall, Dean of the Faculty of Engineering on April 19th. Related staff members of the International Division, the School of Electronic Information Engineering and the International School also attended the signing ceremony.
According to the agreement, Lund University will select 20 undergraduates every year for one term's study at Beihang, and Beihang will also select some undergraduates to study with them in a joint class. These Lund students will take courses in electronic information engineering, Chinese and Chinese culture, which are to be taught by teachers from both universities. Besides, students at Beihang will also enjoy the opportunity to study at Lund University.
Part of the Beihang Global Campus project, this program aims at innovative global cooperation in cultivating talents. Providing a new platform for the cooperation of the two sides in education, science and technology, it contributes to the establishment of an internationalized curriculum system and improves Beihang's capabilities to train Chinese and foreign students together and facilitate the growth of globally competitive talents.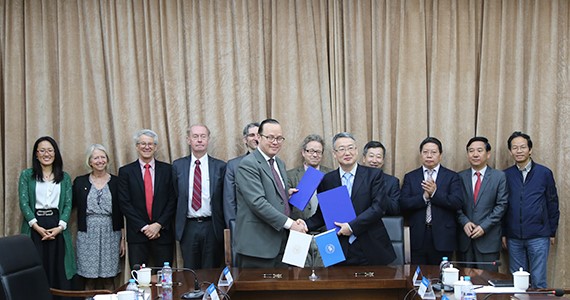 During their visit, the delegates of Lund University also discussed details of the program and reached agreement with representatives from the School of Electronic Information Engineerings and the International School.
Founded in 1666, Lund University in Sweden is a time-honored comprehensive university with outstanding achievements. It came 73th in the QS World University Rankings in 2016. Currently, it has more than 42,000 students and 7,400 members of staff. Its Faculty of Engineering was formerly known as Lund Institute of Technology and merged with Lund University in 1969. Home to 10,000 students and over 1,500 employees, this world-class faculty is now one of the most important faculties there.
Written by Gao Yuan
Photo by Wang Qing
Edited by Jia Aiping
Translated by Li Mingzhu