News
Beihang University Held a Panel Discussion on Studying the Important Speech of General Secretary Xi Jinping's on Intellectuals
Release time:May 4, 2017 / Wang Rui
Chinese President Xi Jinping joined a panel discussion with political advisors from 3 non-CPC parties at the fifth session of the 12th National Committee of the Chinese People's Political Consultative Conference (CPPCC) in Beijing on March 4, 2017. He called on intellectuals to make greater contribution to the nation's development.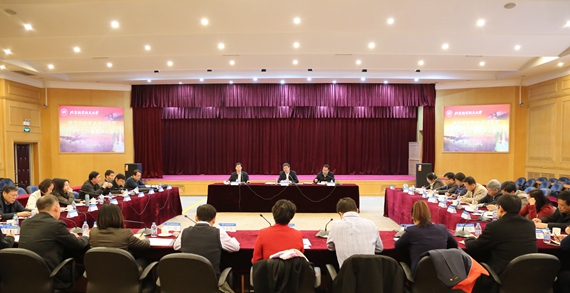 On March 14, Beihang University held a panel discussion to better study the important speech of General Secretary Xi Jinping's on intellectuals. Party Secretary Zhang Jun, Deputy Secretary Cheng Jiwei, and Vice President Wang Yunpeng joined the discussion. Around 40 representatives from different Schools and Offices attended the meeting, including staff in charge from the Office of the Party and University Administration, Organization Department, Publicity Department, United Front Work Department, and the Human Resource Department, as well as secretaries and faculty representatives from the Schools.
Secretary Zhang summarized the prominent ideas of the important speech in four aspects: General Secretary Xi said that the CPC has always valued the importance of intellectuals, who are elites of the society, pillars of the nation, pride of the people and treasure of the country; "Intellectuals across the country should take on a sense of urgency and responsibility, and work hard to build China into a moderately prosperous society in all respects and a major sci-tech power," Xi said; he hoped the intellectuals consciously take the lead in practicing socialist core values, stick to the principle of putting the interest of the nation and the people first, and make greater contributions through innovations; the whole society should care for and respect intellectuals, and create a favorable environment that honors knowledge and intellectuals, General Secretary Xi said, pointing out that authorities must fully trust intellectuals and seek their advice on policy making.
Secretary Zhang pointed out that to better our work regarding intellectuals is one of our most urgent tasks at the moment of accelerating the pace of building Beihang into a world-class university, and that we must be good at working with talented people, uniting them with common career pursuit, gathering them with suitable platforms and mechanisms, and uniting their efforts with coordinating resources. For the goal of building Beihang into a world-class university rooted in the homeland of China, for the holy undertaking of cultivating and promoting morality to people, and for our nation's goal of building a moderately prosperous society in all respects and a world science and technology power, greater contributions must be made by having the courage to take the lead and being reliable.
Secretary Zhang suggested two things regarding our work: one is to continue to strengthen the theoretical armament, in particular, to enhance the learning of General Secretary Xi Jinping's important speech on intellectuals; second is to continue to improve and innovate measures and methods, giving full trust to talents, paying attention to developing their political identification with our Party, opening the door to those who want to dedicate themselves to the national cause, building close emotional ties, and setting good examples for them to follow.
Earlier in the discussion, Zhao Weisheng, Xiao Jin, Wen Dongsheng, Su Danna, Li Lijing, Jin Rong, and Wang Rongqiao shared their thoughts, combining their teaching, research, administration, and the essence of General Secretary Xi's speech of importance. Also, speaking freely, Wang Yunpeng, Zhong Ling, Liu Jianwei, Xiao Zhisong, Liu Zhixin, and Han Huiyu shared their insights on and appreciation for the essence of General Secretary Xi's important speech, with in-depth communication going on among the participants.
Text by Wang Rui
Photos by Wang Qing
Original text in Chinese by Sun Yecheng