News
The Spring 2017 Beihang University Vision Forum Sets the Stage for Human Resource System Reform
Release time:May 26, 2017 / Wang Rui
On May 23-24, the 2nd Beihang University Vision Forum for International Young Scholars, sponsored by Beihang University and co-sponsored by the International Research Institute for Multidisciplinary Science, the Institute for Economics and Business, and Office for Talent Management, was held in the University's Vision International Cultural Exchange Center.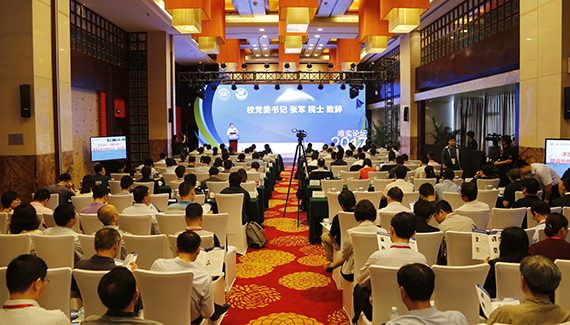 More than 80 young scholars from world renowned universities and research institutions including Harvard University, MIT, University of Cambridge, Stanford University, Imperial College London, University of Toronto, Northwestern University, and U. S. Lawrence Berkeley National Laboratory,LBNL participated in the Forum.
Academician Zhang Jun, Secretary of the CPC Beihang University Committee, Deputy Secretary, Professor Cheng Jiwei, and Vice President, Professor Wang Yunpeng attended the Forum. The Forum also had keynote speaker, Academician Wang Huaming from the School of Material Science and Engineering, together with deans and secretaries of the Schools, and scholars and experts with titles of honor. The opening ceremony was co-hosted by Deputy Secretary Cheng Jiwei and Director of the Human Resource Department Xiao Zhisong.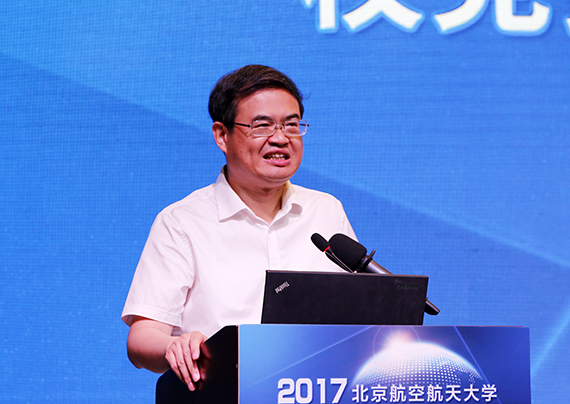 Party Secretary Zhang Jun, in his speech, congratulated on the opening of the 2nd Vision Forum, and expressed his gratitude and extended greetings to the young scholars for traveling long distances to gather at Beihang. He highly appreciated the success of the 1st Vision Forum in 2016, and believed that the 1st Vision Forum effectively promoted academic exchanges and sparked wisdom.
Secretary Zhang pointed out that currently the world is undergoing profound changes, and scientific and technological revolution, economic restructuring, industrial upgrading, as well as integration of information technology and industrialization are working together to form major opportunities for innovation and development. China's comprehensive power and economic strength are increasing, and, at the historic moment of boosting the construction of a world's science and technology power, the craving for higher education, science and knowledge, and talents of excellence is stronger than ever before. Talented young people are the key to a nation's future development, and never has been a time more suitable for overseas-educated talents to start a career for the development of the country.
Secretary Zhang said that as the first higher education institution featuring aeronautics and astronautics since the founding of the People's Republic of China, Beihang's aspiration, inheritance and future are closely related to the rejuvenation and development of this nation. Ever since the dawn of its history in 1952, aviation experts nationwide have gathered at Beihang, the outstanding ones of whom had studied at some of the world renowned universities including the Massachusetts Institute of Technology, California Institute of Technology, and Imperial College London, and created many firsts in China's aviation history, making prominent historic contributions to the country. With innovation and advancement, inclusiveness and cooperation, Beihang has led the way of innovation by serving strategic needs of the nation and orienting for global scientific frontier, with the magnificent accomplishment of 11 First Prizes of national level science and technology awards in the past 12 years and 8 faculty members elected academicians of the Chinese Academy of Sciences and the Chinese Academy of Engineering within 6 years.
He said that Beihang has the determination and aspiration to retain people of talent and wisdom, will continue to promote the University's talent management programs, will comprehensively deepen the personnel system reforms, and will take effective measures to foster innovation and development. A place where dreams come true, Beihang shall be the start for outstanding young scholars' pursuit of innovation and dreams. Secretary Zhang sincerely welcomed young talents to join Beihang, where personal dreams would integrate into Beihang dreams, and further merge into the Chinese dream of the great rejuvenation of the Chinese nation.
"Love and inclusiveness hold talented people together, and future is made by cultivating them to thrive further". Over the past year, Beihang University appointed 67 faculty members for positions including Global Youth Talent 1000 Program, National Science Fund for Outstanding Young Scholars, and Zhuoyue 100 Program. Party Secretary Zhang Jun issued letters of appointment to their representatives and presented them with a book On the College Avenue – Beihang in Oral Account, wishing them to better integrate into Beihang, develop Beihang, and fulfill the dreams.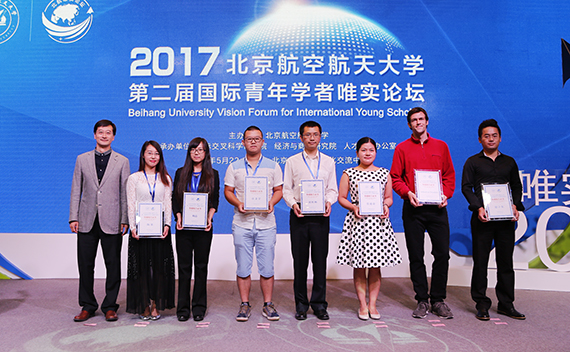 Vice President Wang Yunpeng, professor and Yangtze River Scholar, awarded the 'Certificate of Honor for Specially Invited Speakers' to Academician Wang Huaming and representatives of young scholars participating in the Forum in expression of his appreciation for their excellence.
While giving a comprehensive introduction to the glorious history and achievements of Beihang, Vice President Wang Yunpeng pointed out that the University would never leave its original aspiration behind, would keep forging ahead with keen determination, would bring out Beihang's leadership and courage to best advantage, and would continue with the glory of 11 First Prizes of national level science and technology awards in 12 years.
From the perspective of policies, mechanisms for innovation and compensation and benefits, Vice President Wang elaborated on the strategy to promote and transform top research teams. The University will provide support through coordination of resources across departments and divisions, and will vigorously implement talent management programs, improving the environment for the development and innovation of talented people. He sincerely welcomed the young scholars to join Beihang, to share our vision of inclusiveness, love, and success. "And we will work together to realize the goals set forth in the blueprint of the 16th CPC Beihang University Congress meeting".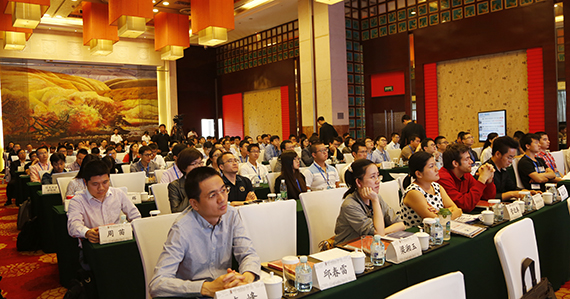 The Forum's invited speaker, member of the Chinese Academy of Engineering, Academician Wang Huaming introduced his research on laser additive manufacturing for high-performance large metallic components, and the innovations in serving strategic needs of the nation, followed by representatives of Beihang University's faculty members: Professor Zhao Lidong, Professor Sebastian Wandelt and Professor Guan Yingchun of Global Youth Talent 1000 Program, , cordially sharing experiences and accomplishments in their area of expertise.
5 sub-forums in Mathematics and physics, Engineering sciences, Chemistry and material science, Information science, and Economics, management and business were held in the afternoon for in-depth discussions around cutting-edge science and technology, further promoting academic exchanges and cooperation among young scholars through presentations and discussion of academic issues, broadening horizons, inspiring creativity and connecting a bridge of friendship.
During the two-day forum, the Schools actively prepared, took initiatives in connecting with outstanding young scholars, and enhanced in-depth communication and exchanges between faculty members of research teams and the participating young scholars to present the School's current status and future plans, and to discuss cooperative matters, effectively implementing the responsibilities of top research team construction.
Beihang University Human Resource Department, on the other hand, conducted talent reviews for the "Zhuoyue 100" talent recruitment and management program. And the Schools first implementing the personnel system reform conducted talent reviews for the professoriate recruitment. All this was to systematically and effectively implement the University's strategies for talent team construction.
The University's biannual Forum aims at advancing the frontier of sciences and continuously promoting scientific research across disciplines and success of young scholars. The Forum creates a suitable platform and a network of academic exchanges for outstanding young scholars worldwide through a series of activities.
With the information sessions held overseas, this combination of inviting-in and reaching-out aggregates global talents of outstanding achievements in deepening human resource reforms and to implement the University's strategies for recruiting excellent faculty members, better realizing the goal of building a world-class university rooted in the homeland of China.
Text by Wang Rui
Photos by Sun Yecheng
Original text in Chinese by Kong Juan