News
Saint Petersburg State University of Aerospace Instrumentation Delegation Visits Beihang
Release time:October 9, 2017 / Mingzhu Li
On September 24th, a delegation from Saint Petersburg State University of Aerospace Instrumentation (SUAI) visited Beihang University, and Mr. Jiwei Cheng, Vice Secretary of Beihang University, met the delegation at the Conference Center of New Main Building with great hospitality.
The delegation was led by Yulia A. Antokhina, Rector of SUAI, and also included Konstantin V. Losev, Vice-Rector for International Affairs, Victor M. Boer, Vice-Rector for Educational Work, Igor A. Pavlov, Vice-Rector for Administration and Control and the chief of the center for science and technology cooperation.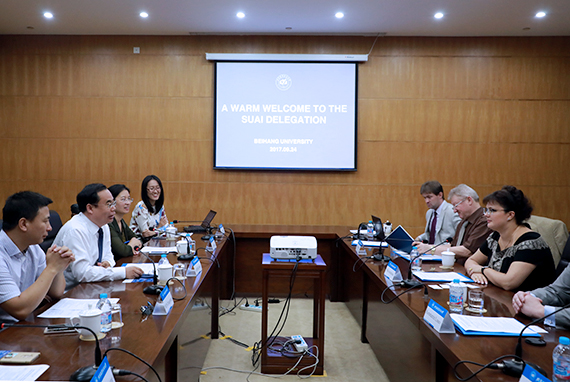 Mr. Cheng first extended his warm welcome to the delegation. According to him, the deep friendship and important partnership between SUAI and Beihang dated back to 1952, when Beihang was just founded and received support from SUAI. Cherishing this relationship, Beihang hoped that a new stage of in-depth cooperation in student and teacher exchanges and joint scientific research programs would begin with this visit.
Dr. Antokhina said it was her first visit to Beihang after taking office and praised the achievements Beihang has made in talent cultivation, scientific research and social services in its 65 years of development. She noted the solid foundation for cooperation in the two universities' shared preponderant disciplines of aerospace and the active exchanges between the students in recent years. She also expected the materialization of cooperative items like joint summer school and bilateral seminar of aerospace as the extension of SUAI and Beihang's friendship.
Jingnong Weng, Dean of International School, Dongsheng Wen, Dean of the School of Aeronautic Science and Engineering and the School of General Engineering, Longfei Che, Vice Dean of the School of Energy and Power Engineering introduced respectively the enrollment and cultivation of international students, the efforts to serve the Belt and Road Initiative, such as the foundation of BeiDou Silk Road School and the Regional Centre for Space Science and Technology Education in Asia and the Pacific (China) (affiliated to the United Nations), the disciplinary development in aerospace science and technology and the operation of the School of General Engineering.
After the meeting, the delegation visited the Lunar Palace 1 lab, where Prof. Hong Liu, its Chief Designer, gave an detailed introduction of the ongoing experiment in the sealed lab to the visitors.
Since its foundation in 1941, SUAI has cultivated a large number of excellent professionals for the aerospace industry of Russia, and currently has more than 13,500 students. As a major aerospace research and education center in Russia, it shows strengths in automatic aircraft control system, flight navigation system and the theories, design and manufacturing of measuring and computing systems.
SUAI and Beihang are both members of the Belt and Road Aerospace Innovation Alliance. At present, the two sides have signed agreements about university-level cooperation and student exchange, and sent 30 students to each other for the exchange and study program or the short-term exchange program.
Written by Lingpei Wang
Photo by Chao Song
Edited by Qing Wang
Translated by Mingzhu Li