Home_spotlight
Lunar Palace 365 Experiment Starts
Release time:May 15, 2017 / Mingzhu Li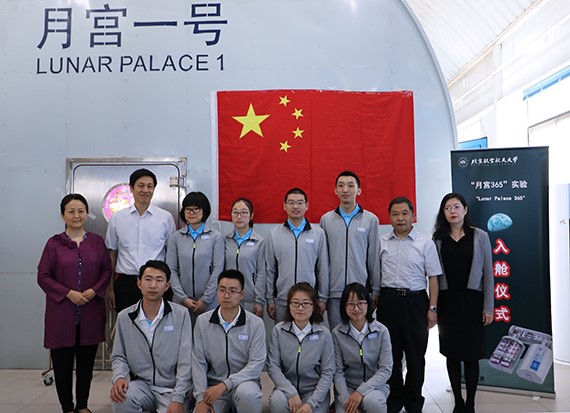 (Leaders of Beihang University, Prof. Liu Hong, head of the experiment, and eight volunteers in front of Lunar Palace 1)
The Lunar Palace 365 experiment was launched by Beihang's Lunar Palace research team in Lunar Palace 1, a simulated space cabin for bio-regenerative life-support systems experiments, on May 10th, 2017. The 365-day experiment is aimed at testing the reliability of the Bioregenerative Life Support System (BLSS) when it works in a moon-environment with crews of different metabolic rates and sudden breakdowns. Eight volunteers, all postgraduates of Beihang, are divided into two teams taking turns to live in the cabin and will conduct the experiment in three shifts. As the longest one of its kind in the world, it will help develop the technologies necessary for the guarantee of astronauts'security and life quality in medium and long-term deep space explorations.
The experiment has gained wide attention and coverage. Click the following links to read more.
Xinhua news Agency
http://news.xinhuanet.com/english/2017-05/10/c_136272414.htm
China Daily
http://usa.chinadaily.com.cn/epaper/2017-05/11/content_29302523.htm
http://www.chinadaily.com.cn/china/2017-05/10/content_29291491.htm
L'Agence France-Presse (AFP)
https://www.afp.com/en/news/2265/china-tests-lunar-palace-it-eyes-moon-mission
BBC
http://www.bbc.com/news/world-asia-china-39880165
Four postgraduate students from the astronautics university of Beihang on Wednesday moved into the cabin, ambitiously called the Yuegong-1, or Lunar Palace in English.
Reuters
http://www.reuters.com/article/us-china-space-moon-idUSKBN187047
Daily Mail
http://www.dailymail.co.uk/sciencetech/article-4494192/China-simulates-extended-moon-stays-amid-space-drive.html?ito=social-twitter_mailonline
Russia Today (RT)
https://www.rt.com/news/388035-china-moon-asteroid-exploration/
International Business Times
http://www.ibtimes.com/china-moon-mission-moves-fake-lunar-space-colony-prepare-astronauts-2537578
Edited by Li Mingzhu
Photo by Kong Xiangming
Posted by GEOOS