Home_spotlight
From "X" to "O": Turnaround in Magnetic Reconnection Talk with Prof. Fu Huishan from School of Space and Environment
Release time:May 22, 2017 / Mingzhu Li
Introduction
Early this year, Prof. Fu Huishan from the School of Space and Environment published a paper entitled "Intermittent Energy Dissipation by Turbulent Reconnection" in Geophysical Research Letters (GRL). With his original method, the first-order Taylor expansion (FOTE), he brought up a new understanding of magnetic reconnection, which, according to American Geophysical Union (AGU)'s press release, "could upend conventional wisdom".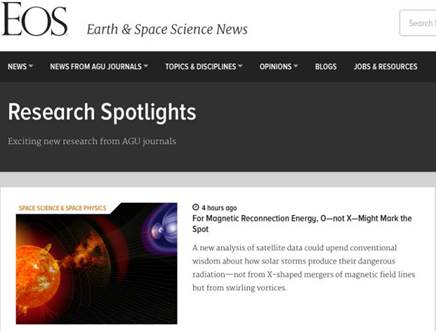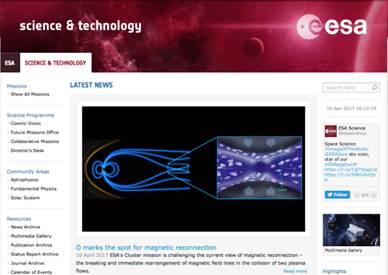 Fig. 1 Prof. Fu's research findings were rated as AGU Research Spotlights and reported by AGU and the European Space Agency (ESA)
Difference
For decades, magnetic reconnection has been described as a process in which magnetic field lines from different magnetic domains pull themselves together into an X shape, touch at the center, break and realign, dissipating considerable magnetic energy.
What Prof. Fu found with his collaborators was quite different. Analyzing the data from the ESA's four-satellite mission Cluster launched in 2010, they concluded that energy dissipation appears at O-lines, the area where field lines spiral and swirl, not X-lines. This was "a result that is likely to spark a great deal of discussion", as was stated in the AGU Research spotlight.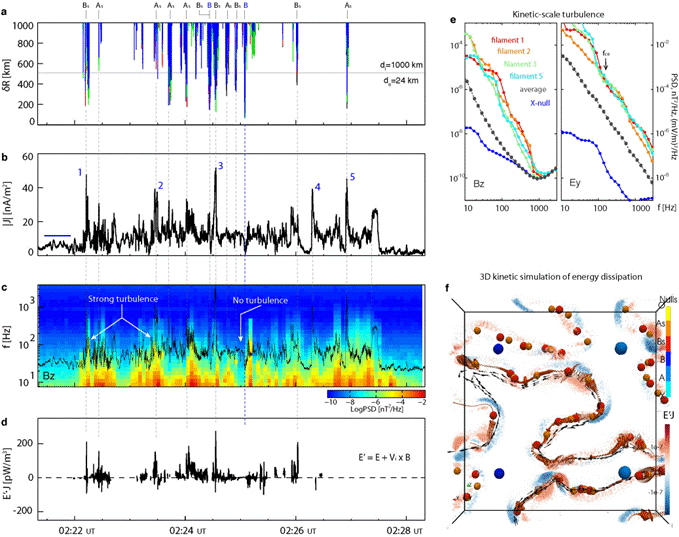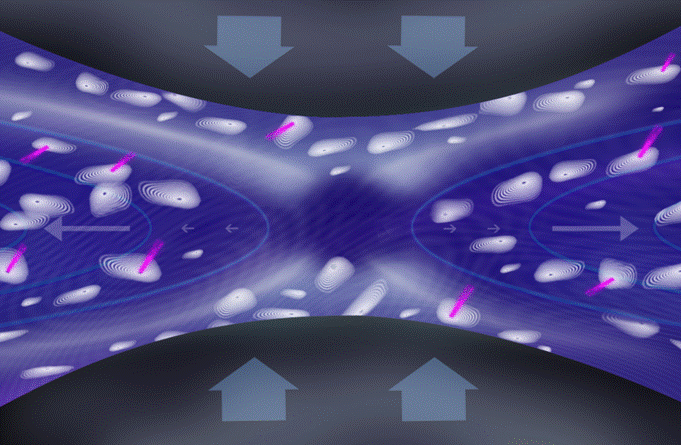 Fig 2. Current, turbulence and energy dissipation were strong at O-lines yet nonexistent at X-lines, according to Prof. Fu's findings
For such a turnaround in the concept of magnetic reconnection, it was inevitable for the "why you" question to be asked, because the data from Cluster satellites has been public worldwide and have already been studied for many years. In his recent interview with ESA, Prof. Fu revealed the answer—his original first-order Taylor expansion (FOTE) method, which could be applied to the reconstruction of magnetic field topologies.
In fact, as early as in 2012, Prof. Fu had come up with the FOTE method and used it to reach the conclusion of magnetic reconnection at O-lines. He immediately submitted his paper to Science out of the eagerness to share the groundbreaking findings with other scientists, yet it was rejected then and for another two times later by Nature because of different reasons: lack of numerical simulation, unproved method, and being more suitable for geophysical journals.
Nevertheless, these setbacks did not undermine the study's significance. In 2015, the FOTE method was recognized as reliable and made its way to the cover of Journal of Geophysical Research. In 2017, the findings were published in Geophysical Research Letters, a world-renowned journal in geophysics. Reviewers all gave full recognition of its weight.
Did he ever doubt his conclusion during these twists and turns? The answer was no. Prof. Fu had confidence in himself and his discovery. According to him, researchers' task is to convince themselves of their findings first and then prove them to others, even if the discovery might contradict to the conventional wisdom sometimes. He also highlighted the necessity of independent thinking and uniqueness in doing research, and warned against imitation.
"You need to be different," said him.
Future
Walking into Prof. Fu's office, one would soon notice four posters on the wall, which showed some of his major contributions in space physics field. Speaking of future plans, he put it in a simple way: "I want to cover all the walls in this office with such kind of posters."

Fig. 3 Posters on the wall of Prof. Fu's office
As a discipline, space physics is not so common in colleges and universities. Satellite data is necessary for research in this field, yet satellite launches are so costly that they often demand joint efforts of multiple countries. Besides, the general public know relatively little about the significance of space physics. Some students also have the worry that it has some particularly high requirements.
Regarding these issues, Prof. Fu further explained. According to him, research findings in space physics could be more related to life than people think. Take magnetic reconnection as an example. It is closely linked to sun flares, coronal mass ejection, aurora, controlled nuclear fusion and so on. As countries around the world gradually realized the great potential of the universe, further steps would be taken into the unknown that could reveal answers to the past and the future.
Next, Prof. Fu and his research team are planning to apply the FOTE method to the analysis of the MMS data and plasma jets in space. He sincerely hopes that more students with logical thinking, confidence and curiosity in this field could join them.
Click the following links for more information:
Intermittent Energy Dissipation by Turbulent Reconnection by Prof. Fu:
http://onlinelibrary.wiley.com/doi/10.1002/2016GL071787/full
Press Release by AGU:
https://eos.org/research-spotlights/for-magnetic-reconnection-energy-o-not-x-might-mark-the-spot
Press Release by ESA:
http://sci.esa.int/cluster/58994-o-marks-the-spot-for-magnetic-reconnection/
Written by Li Mingzhu
Posted by GEOOS
Special thanks to Prof. Fu Huishan