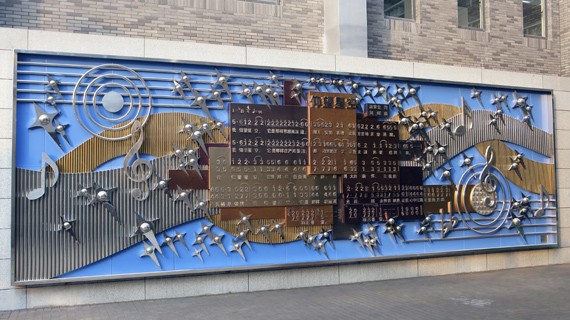 A beautiful melody is combined with Premier Wen's profound and artistic peom to form the song "Look up at the Starry Sky"
In May 2010, the standing committee of the party committee decided that the university anthem of Beihang was officially named as "Look up at the Starry Sky". The anthem selected Premier Wen's poem "Look up at the Starry Sky" as the lyrics and invited the artists of Shenyang Conservatory of Music to compose the song. This event marks a step towards perfecting the spiritual culture of Beihang.
The university anthem has a beautiful modern melody and a lively and profound atmosphere, with a strong sense of mission, charisma and cohesion. Its creation was strongly supported by Lu Xin, the Vice-Minister of the Ministry of Education, and Liu Hui, President of Shenyang Conservatory of Music. Secretary Du Yubo, and previous President Huai Jinpeng also wrote a letter, to which a CD of the song was attached, to Premier Wen on behalf of Beihang. Since then, "Look up at the Starry Sky" has been widely sung on campus and fully recognized by teachers, students, alumni and the society.
As a great event in the cultural construction of Beihang University, the creation of the university anthem further enriches the connotation and realm of Beihang spiritual culture.