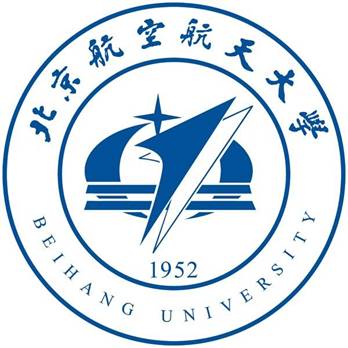 The outside part of this logo is two concentric circles which represent the multilayered structures of the universe. The main pattern, which consists of double-headed arrows (the abstract graphics of aircraft and spacecraft), an unfolded book, a satellite orbit and the outer space, represents Beihang's spiritual culture and emphasizes Beihang's high-tech feature in the field of aerospace.
The number "1952" in the logo not only is the founding year of Beihang, but also highlights the university's historic mission.
The Chinese school name, inscribed by Zhao Puchu, makes a clear contrast with the English school name: the Chinese name written in calligraphy shows that Beihang carries on with and develops Chinese cultural traditions, while the English name shows Beihang's resolution to become internationalized and modernized in the new period.
The basic color of the logo is blue, which has a connotation of openness, strictness, steadiness and enterprise, perfectly presenting the unique characteristics of Beihang culture and ambition in exploring the unknown in the blue sky. Also, Beihangers have a special passion for this color.