The motto of Beihang University is "Integrate Virtue with Brilliance and Combine Knowledge with Practice", which is widely recognized by Beihang faculty and students as their code of conduct.
"Integrate Virtue with Brilliance" means excellence in both moral character and learning. The university highlights the fundamental importance of good moral character, and the character building part precedes the capability development in its talent cultivation process. It remains committed to the original aspiration and essential mission to cultivate talents for the Party and the country, aiming to achieve all-round development of character, intelligence, physical health, aesthetic taste and labour skills in its students.
"Combine Knowledge with Practice" demands both the pursuit of truth in study and the courage to carry out ideas and blaze new trails. Beihangers should put theories into practice and always be devoted to learning, self-improvement and creation, applying what they learn to real-world problems and keeping abreast of the times. Beihangers pass on the spirit of serving the country in the field of aeronautics and astronautics and being pioneers in national development. They strive to meet the major national strategic needs and make first-class contributions to the realization of the Chinese Dream of national rejuvenation.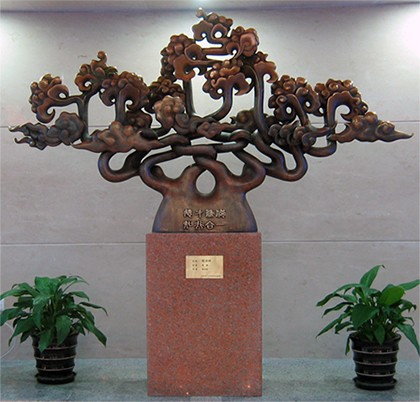 Motto Tree, a statue on the theme of Beihang's motto (Xueyuan Road Campus)
Motto Tree, a statue on the theme of Beihang's motto (Shahe Campus)