Motto
The motto of Beihang University is "Integrate Virtue with Brilliance and Combine Knowledge with Practice", which is widely recognized by Beihang faculty and students as their code of conduct.
"Integrate Virtue with Brilliance" means excellence in both moral character and learning. Members of Beihang should not only conduct themselves uprightly and nobly, but also possess rich knowledge, excellent comprehensive qualities and workplace competencies. It is required of them to be good at discovering, analyzing and solving problems, to behave with integrity, work with conscientiousness and study with down-to-earthness, and to be high-caliber talents who are moral, law-abiding, well-educated and innovative.
"Combine Knowledge with Practice" demands both the pursuit of truth in study and the courage to carry out ideas and blaze new trails. Beihangers should put theories into practice and always be devoted to learning, self-improvement and creation, applying what they learn to real-world problems. Meanwhile, they should also be honest and match words with deeds.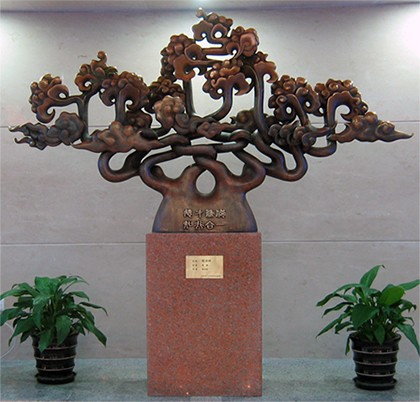 Motto Tree, a statue on the theme of Beihang's motto (Xueyuan Road Campus)
Motto Tree, a statue on the theme of Beihang's motto (Shahe Campus)